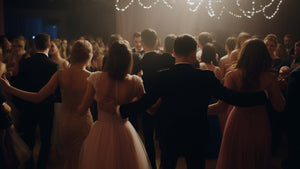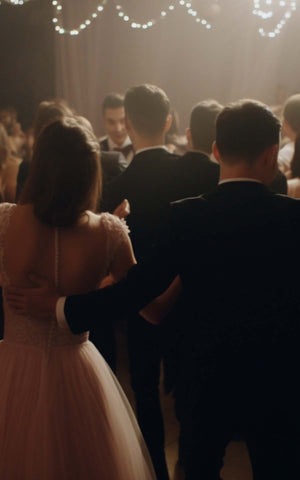 Perfect suit. Perfect day.
Wedding outfit made to measure
Alferano gives you the certainty of wearing just the right thing on this unique day. We offer you everything you need for a perfect appearance - from individually tailored suits, shirts and shoes to matching accessories such as ties, bow ties, handkerchiefs and cufflinks. Rely on our competent advice and our all-round carefree package for your big day.
Actual collection
We manufacture your wedding outfit individually for you. From head to toe. Our collection includes several hundred fabrics. Here is a small selection for inspiration.
It's just more fun with friends.
Choosing a wedding suit is not a rigid matter. Bring your best man, your father or your future father-in-law with you to the consultation. We will discuss your personal wishes and needs over a coffee or a beer.
A nice side effect: On this occasion, the "Best Men" can also get dressed for the big day.
Personal advice
Experience our products, fabrics and designs with a personal consultation - conveniently at your home or in one of our showrooms in Zurich, Basel, Geneva, Lucerne or Chur. Arrange an appointment now.
Frequently Asked Questions
The prices depend on the selected fabric quality and processing. The Alferano Essential models are available from CHF 849. We can offer handmade luxury models made from the finest materials from CHF 2000. We always adapt to your needs and your budget.
It usually takes 4 to 6 weeks from the consultation appointment until you can wear your custom-made wedding suit.
When choosing the right fabric for your suit or veston, you should consider quality, comfort and your personal style. High-quality wool fabrics like merino or cashmere are classic options, while linen and cotton offer lighter alternatives for the warmer months. In the consultation, an Alferano consultant will show you the various options and the respective advantages.
You can get inspiration online, but the advice and measurement will take place at a face-to-face meeting. Either at your place or at one of our locations. This is how we ensure that you find the ideal wedding suit for you and that it fits perfectly.
A bespoke wedding suit is a bespoke garment tailored to your measurements and desires. Unlike ready made suits, it offers a perfect fit and reflects your unique style. This will ensure that you look your best on this special day.
You can decide whether you want to get married in a classic three-piece suit with a bow tie or in a loose linen suit. We'll help you find the perfect look from head to toe. At Alferano you will find a wide range of suits, shirts, shoes and accessories for your big day.
You discuss your wishes and needs with an Alferano fashion consultant. This includes style, cut, fabric, colors and patterns. Your measurements will then be precisely recorded. After the consultation, the production takes place in one of our manufactories. As soon as your suit is finished, we will make an appointment with you to try it on.
We are only satisfied when you are. We are happy to make adjustments to your Alferano clothing in our in-house tailoring shop. Get in touch at any time if you have subsequent change requests.
Thats what our customers say
★★★★★

I had a suit tailored for my wedding and am very happy. The price-performance ratio is great.

Stoyan T.

Rueschlikon
★★★★★

Had my suit made here for the civil wedding. I've always felt good. Suit fit perfectly and looked incredibly good.

Raphael S

Google Review
★★★★★

I've never looked better in a suit. Great advice, great products and fair prices.

Tobias W

Google Review
★★★★★

Thank you for this chic husband.

Sandra S

Google Review
★★★★★

Very professional advice. The suit fit perfectly right from the first fitting. CLASS

Willi W

Google Review
Outshine the Bride
10 tips for your wedding suit
Everyone has style, but the right suit for your wedding day? That's where it gets complex. So that you feel like James Bond and not his stunt double, here are a few tips on how you can shine.
To the tips